If you are a user of Westfield Bank's mobile app, you may be accustomed to using services such as Bill Pay and Zelle® directly through the app. Occasionally, our terms of service are updated, which prompts you to read and accept before utilizing either of these services.
For mobile app customers, accepting the terms of service may be slightly less intuitive compared to online banking. When acceptance is required, the Zelle option will disappear from the Quick Links section of the accounts page, and both the Zelle® and BillPay options will disappear from the Transfers and Payments tab. In their place on this tab, you will find a link to accept the terms. Once the terms have been read and agreed to, you will once again see the Zelle® and BillPay options.
If you receive text alerts for incoming Zelle® transfers, you may notice changes to the messages if you have not accepted the latest terms and conditions. In some cases, Zelle® users may receive a notification claiming that they need to sign up for the service to proceed with the transfer. In this case, acceptance of the terms of service will likely allow you to proceed.

When we are aware of a separate issue impacting services such as Zelle® and BillPay, a notice will be placed on the homepage of our website.
As always, you can give us a call at 413-568-1911 or 800-995-5734 with any questions or concerns.
Zelle and the Zelle related marks are wholly owned by Early Warning Services, LLC and are used herein under license.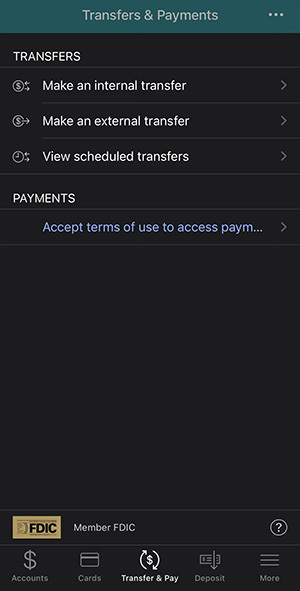 If the Zelle® and/or BillPay options disappear, navigate to the Transfer & Pay tab to see if the latest terms need to be accepted.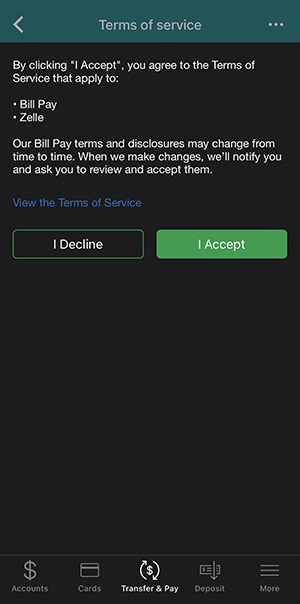 After clicking on the link under the Payments section, you will be prompted to accept the terms of service.